Sonodyne, an Indian company, have now turned their focus towards studio monitors and with the SM100AK, the results are more than impressive! With a 6.5″ driver nestled inside an aluminum enclosure, the SM 100AK monitors deliver a clean, articulate sound that paints an accurate picture of what you're tracking or editing. The cabinet is magnetically shielded, so your video monitors will never interfere with your mixing. The woofer and tweeter are each driven by 120 total watts of power, giving them plenty of "oomph" for critical nearfield monitoring. By utilizing a combination of solid aluminum die cast enclosures (which are only found in the top of the line studio monitors), high quality transducers and customized high power bi-amplification, Sonodyne SM series deliver exceptional performance at great value. When you hear how full your mixes sound through these beefy yet compact desktop monitors, you'll be blown away!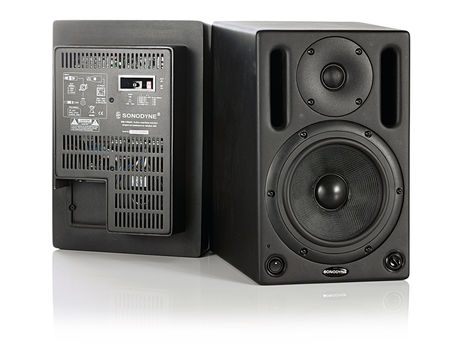 Sonodyne SM 100AK – Tech Specs:
– 2 way nearfield active monitor
– LF: Magnetically shielded 6.5″ Kevlar cone woofer in die-cast chassis
– HF: Magnetically shielded 26mm silk dome tweeter with integral waveguide
– Enclosure Type: Vented, through twin firing aerodynamic port
– Overall Freq. Response: 60Hz ~ 22kHz (+/- 2dB)
– Amp Power Before Clipping: LF: 80 W, HF: 40 W
– S/N Ratio (At Unity Gain): > 90dB, referred to full output
– Input: Fully balanced through XLR & TRS sockets
– Crossover: 4th order Linkwitz Riley, 1.8kHz
– Bass Tilt: -2dB, -4dB, -6dB @ 80Hz || Bass Roll-Off: 80Hz, 6dB/ octave
– Treble Tilt: – 2dB @ 15kHz
– Protection: Over current, overheat, RFI, switch on/off transients
– Power Consump.: 200 VA Max.
– Cabinet Material: Die-cast aluminum
– Dim. (H x W x D): 9.05″ x 13.97″ x 11.81″
– Net Weight: 23.14 lbs.
– Finish: Black texture
IN INDIA? ORDER YOUR SM100AK TODAY! – Click Here
Josh Blair (Engineer/Producer for Duran Duran, Beyonce, Leona Lewis & many more) talks about why he chose the SONODYNE SM100Ak as his reference monitor weapon.
"..With tight bass, flat mids and extended highs this is the new reference" – Josh Blair

SAE Brussells chose Sonodyne's SM100Ak to be installed in their 10.1 AURO 3D Mixing Studio. Another milestone for Sonodyne's Studio Monitors, which are quickly becoming THE tool of choice for professionals.

SM100AK reviewed by GearSlutz Editor George Necola
"it was a lot better than my KRK/Genelecs…"

FutureMusic/MusicRadar reviews Sonodyne SM100AK
"At any price these would be great speakers; at this price it's hard to think of anything that can touch them."
Related Posts

Fatal error: Uncaught Exception: 12: REST API is deprecated for versions v2.1 and higher (12) thrown in /home/content/41/9852741/html/blog/wp-content/plugins/seo-facebook-comments/facebook/base_facebook.php on line 1273